Does no credit card mean no credit history?
Whether it's a student loan or financing for furniture, you can have a credit score with no credit card.
Dear Jeff,
I've always steered clear of credit cards after watching my parents struggle all my life. Up until now, that's worked for me. But now I want to buy a house and I'm worried the lack of credit will mean I can't get approved. Since I've never had a credit card, do I even have a credit score to assess? If not, what can I do?
Channon R.
Brampton, Ontario
Channon,
It's possible to have a credit score with no credit card. Any of the following actions or events would create a credit history that translates into your score:
You took out student loans to get through college, even federal student loans that didn't require a credit check
If you've ever financed a car with an auto loan
Personal loans through a traditional bank also count
Financing furniture or electronic purchases on store credit
You received a court judgment that requires payments, such as alimony or child support
If you had any type of account – including service contracts for smartphones – go into collections
Basically any loan, civil court judgment or collection account creates a credit history. This is the basis of the information used to build your credit report. Then in turn, your credit score is calculated based on the information contained in that report.
Steps to take if you have limited credit history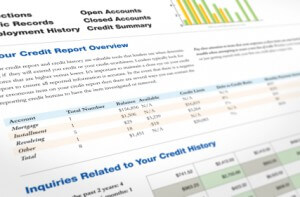 It's important to note that simply having a credit score isn't a sign you can get approved. Bad credit is just as hard to overcome as no credit. Either may present challenges on major financing approvals, like what you get when you apply for a mortgage.
With that in mind, if you only ever had one loan and had trouble with repayment, or you've had several service accounts slip into collections then your credit score may be problematic to future loan and credit approvals. What limited credit history you have to generate a score would be negative.
In this case – or even in the case that you've never had any credit at all and really have no credit score – you should take the following steps:
Step 1: Know where you stand
Download a free copy of your credit report. You will be able to get a copy of each report you have from TransUnion and Equifax. Those are the main credit bureaus and they each maintain their own version of your credit profile and you can download your reports entirely for free, no strings attached.
This allows you to check your credit to see where you stand. You may believe you have no credit score, when in fact you have generated a history at some point. So check the government-authorized report download website to make sure you really don't have a report.
Step 2: Start small to build credit
Smaller financing will be easier to get approved for. This includes opening a secured credit card or applying for a small traditional loan. Both of these will give you a small credit line to repay, so you can build a positive credit history.
In most cases, a secured credit card will be the easiest to get approved for even with no credit history. You simply need a small cash deposit to open a credit line of equal value. If you deposit $200, then you have a credit line of $200. Just make sure you're applying for a secure credit card and not a prepaid credit card. The first allows you to build credit; the second functions more like a debit card and doesn't build credit history.
If you have an aversion to credit cards, try a small personal loan. Make sure to go for a traditional loan, where you apply and they review your credit. No credit check loans, such as payday loans, typically have high interest rates and finance charges. It's expensive and in many cases, bad for your finances.
Step 3: Build your credit history for 6 months
Whichever type of credit you choose, pay it off responsibly for at least six months. Make sure to make all of your payments on time. If you have a secured credit card, try to pay off the balance in-full every month.
After roughly six months to a year, you should have enough credit history to qualify for other financing. If you want to apply for large-scale financing such as a mortgage, you may wish to consult with a credit counsellor These experts can help analyze your credit and make recommendations to help you get the approval you want.
Best of luck,
Jeffrey Schwartz
Executive Director
Jeffrey Schwartz is the Executive Director of Consolidated Credit Counseling Services of Canada and President of the Credit Association of Greater Toronto (CAGT).
Need Answers?
If you have a question about a debt management program or just about finance in general, Jeff is here to help. Send us an email with your question to AskJeff@ConsolidatedCredit.ca. You'll get the expert advice you need and your question may be featured here on our website.